Lounge Lizard Gatherings
by Foreign Desk Editor, Danni Chaso
My adventures in June epitomizes exactly what Martini in the Morning's mission has been since 2006 … to create a worldwide community united by their love of the Great American Songbook and the lifestyle that goes with it.  Thanks to MITM I've been very fortunate to meet people who live thousands of miles apart and have become good friends … some, I've never met in person but have via the MITM chat lounge and others I've met during several trips to Los Angeles or when people visit London on business or vacation – or "holiday" as we say in the UK.
One such example was in May when I received an email from long-time MITM supporters Walt and Lynn Kendall from Granbury, Texas, who emailed to say they were travelling to various parts of England and would love to meet up whilst in London, so we arranged a get-together.  I was very excited as even though I had never met the Kendall's, I felt as though I already knew them as I'd often heard Brad mention them on air. We went to a pub chain called "The Slug And Lettuce," as Walt, being a university professor, often uses this pub as an example for his lectures, so he wanted to experience it first-hand.  During lunch we discussed all things MITM as we shared stories of how we discovered Brad and the station, as well as our jobs, places we've visited and music. Plus, Walt and I phoned Brad live on air to share the fun experience.  The Kendall's made me feel so at ease and it was a lovely afternoon.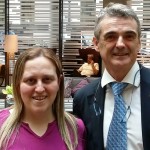 A couple of days later, I met another MITM listener and friend – Claudio Blancardi who was visiting London on business from his home in Luxembourg.  I first met Claudio in the MITM chat lounge last year and in February 2015, we featured an article about him in "Notes From a Cocktail Napkin." He's led an interesting life having lived, travelled and worked in so many countries.  So, once again, I felt as though I already knew him. We met at a roof-top bar near the Tower of London on a sunny evening and the view across town was spectacular.  We chatted for an hour and a half about various subjects and Claudio told me all about a trip he had planned at the end of June to visit Las Vegas to celebrate his son Valentin's 21st birthday. They planned to drive to Los Angeles, which is one of the places he lived for a few years.
Since our meet-up he did indeed go on his fun father and son adventure and they got to visit Brad and "Mother" Miriam at the MITM studio and met other members of the MITM community at Vitello's in Studio City for the weekly live 2 Martini Lunch broadcast. I look forward to meeting Claudio again during one of his future trips to London so that he can tell me more about his U.S. adventures.
There was another gathering which took place earlier this year, though this time it was with Anne Blankenship and her husband, Dick, from Los Angeles, who visit their London-based daughter and family twice a year. Whenever they are over here we arrange a fun day out along with Jim and Ann Rust, who live in Dunstable (just outside of London).  Over the past few years the Rust, Blankenship and Chaso adventures have taken us to Camden Market, Windsor Castle, a tour of central London, the South Bank and this last trip was a visit to see the beautiful Dunstable Downs, surrounding countryside and Berkhamsted castle ruins dating back to the 11th Century, plus a delicious lunch at chez Rust's.  I'm looking forward to our next gathering at some point later this year.
Here at MITM we love it when our Lounge Lizards in Exile get to together and we'd love to hear from you if you've had any gatherings with fellow MITM listeners.