by Michael Yocco
The Fay Farm is a family run farm on Whidbey Island, outside of Seattle, Washington.  On our five acre farm, Stacy and I raise Nubian Goats, and grow herbs that we infuse into our natural body care products.  We've gotten a lot of help over the years from our seven daughters, and currently, our youngest daughter, Allie, helps to make product for our website business and booth at Pike Place Market Seattle, where many of our customers first discover us.
I'm also a musician, and traveled for several years in big bands around the country, so MITM's music is very special to my heart.  I've worked with Myron Floren (accordionist for Lawrence Welk Orchestra) as well as Doc Severinsen, and Brad was kind enough to play a CD of a group I was in, Billet Deux, a gypsy jazz band, and featured a song I wrote for the CD, "Ordinary Girl".  Although it's an instrumental, it is a bossa nova (a slight departure from the genre) and the words that go with it were written as a tribute to my wife.
If you get an opportunity to hear the song, imagine the words that go along with it:
An ordinary girl
Not very much to see
An ordinary girl
So thinks she
As she is walking by
It's all that I can think
This ordinary girl
Is the only girl for me!
For many years, George Brunjes, aka Chocolates by George, was a sponsor of the Monday Morning Mindbender.  He was a dear friend of our family and also a fellow Whidbey Islander.  After George passed away a few years ago, I asked his daughter, Lauren, who happens to volunteer with MITM, if it might be possible for our Farm to take over the sponsorship of the Monday Morning Mindbender.  We sent Brad and Miriam some products to evaluate and they were very excited about having us as the sponsor, and it's been a wonderful relationship ever since!
It is an honor to have an association with such a fine group of people and thank you for welcoming The Fay Farm into the Martini in the Morning family!
About Our Products
Why do we use Hemp Oil in our products is a question we get asked quite often.  Hemp Oil is high in Omega-3 and -6 fatty acids, which are great for reducing inflammation and stimulating rejuvenating and rebuilding of skin.  Hemp Oil replenishes our body's essential fatty acids, which help our skin hold moisture and acts as an aid to aging skin.  Hemp Oil is the only plant oil that contains Vitamin D, which is used in calcium absorption, and helps to achieve smooth and hydrated skin.
The Healing Hemp Salve was developed for one of our daughters, who was suffering from eczema and psoriasis. For years we had her on topical steroids and immuno suppressants, but she continued a painful downward spiral of outbreak, itching, bleeding, applying steroids, thinning her skin, and then the next cycle would become even more painful.  Stacy got frustrated with the process and began researching ways to naturally relieve our daughter's symptoms.  She came up with several recipes and after many months came upon the formulation that we use today (with some modifications over the 11 years we have been in business).  Response to our Salve has been phenomenal and we have had people over the years email or call us with several different applications they've discovered for the Salve such as relief for bug bites, a great insect repellent, great for burns, scar reduction, athlete's foot and ringworm–it's even used as a natural makeup remover!  We have been very popular in the ichthyosis community, as well as for contact dermatitis sufferers.  Most importantly, the folks in the very dry climates swear by our Salve, and other moisturizers.
While the Salve was great for all over the body, several of our customers asked for a lighter, quicker absorbing and less greasy formulation, especially for face and scalp.  Three years ago, we introduced our Healing Hemp Serum, which has been very well received for sufferers of itchy, flaky scalp and plaque psoriasis in the scalp.  The Serum is also effective for wrinkle reduction as well as firming and toning skin.
Our Healing Hemp Lotion was introduced last year, again at the many suggestions we received from our customers in 21 countries.  They loved the Healing Hemp Salve, but at times did not like the length of time the Salve remained moist on the skin.  After four and half years of product development, Stacy unveiled the Healing Hemp Lotion, which is a Lotion free of alcohol or methyl parabens–both ingredients that are damaging to skin and basically render a moisturizer useless.  Immediately, the Healing Hemp Lotion has become one of our best selling products, in fact, when customers order our Lotion for the second time from our website www.thefayfarm.com, they order anywhere from two to five bottles at a time!  Currently, the Healing Hemp Lotion is only available in an eight ounce pump, but we are working on a 16 ounce pump bottle which will come out a little later this year.  If you try one item from our website, I highly recommend the Healing Hemp Lotion.  The smooth, silky feeling of the Lotion combined with its quick absorption, and divine essential oil bouquet, adds up to an unforgettable experience!  Imagine putting something this decadent on your skin–and it's great for you!!
A few years ago, we began getting questions from our customers asking what percentage of Cannabidiol Oil (CBD) is in our products.  We researched the benefits of CBD and discovered it is effective for pain relief, anti-anxiety and improving mood.  We immediately began developing formulations containing CBD based on some of our popular products, such as Lotion, Salve and Muscle Rub.  The result is our recently introduced line of CBD products and they have been showstoppers since their debut last month. 
We tested our CBD products on several dozen people with diagnoses as diverse as fibromyalgia, arthritis, sore muscles from working out too hard, and have received overwhelmingly positive feedback from these groups for both our Warming CBD Muscle Rub and our Healing Hemp CBD Lotion.  Our eczema and psoriasis sufferers have seen greatly improved results with our Healing Hemp CBD Salve and Healing Hemp CBD Lotion.
CBD oil is legal in all 50 states and 28 countries outside the US.  Because we utilize a whole plant extraction that is less than 0.3% THC, it is considered a food additive and is regulated by the FDA.  We get asked a lot if this is a legal product, and most definitely it is legal!
A great complement to our Healing Hemp Line of products are the Healing Hemp Liquid Soap and Healing Hemp Bar Soap.  Made with Nubian's goat milk from our herd on our farm, there are two great benefits to goat's milk:  first, goat milk is close in pH to our own body's pH, so it is very gentle on our skin, and second, Nubian goats are the highest percentage butterfat milk producers of all dairy goats–the more fat in the milk, the more moisturizing it is for our skin!  There are numerous Goat Milk Bar Soaps available on the market, but only a handful of companies produce Goat Milk Liquid Soap.    
In addition to our Hemp-featured line of products, we also craft a Head to Toe Lotion, Normal to Dry Serum and Lotion, and Normal to Oily Serum and Lotion.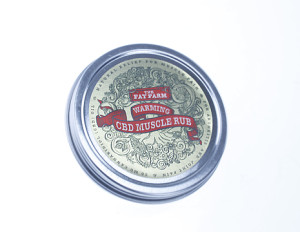 Editor's Note: We are grateful to Michael and Stacy for their continued support of MITM. We hope you will check out their website and try some of their fabulous products. Remember to use code MITM when checking out for free shipping.